RECIPES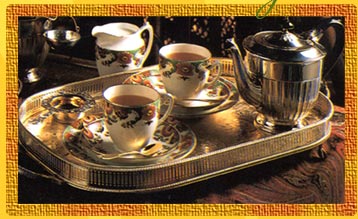 Apart from giving you a healthy life, Green Dream can give you some mouthwatering mock tails.
Have some cool fun with these refreshing sippers.

Minty Green Dream Lemonade
2 cups brewed Green Dream tea
1 cup water
1/2 can (6 oz) frozen lemonade concentrate
1/4 cup chopped fresh mint leaves
Combine all ingredients in a pitcher and refrigerate for at least 2 hrs. Garnish with lemon wedges and serve chilled.

Green Dream Fruity Float
4 cups brewed Green Dream Tea
2 cup apple juice
4 cups of vanilla ice - cream
Mix the tea and apple juice in a pitcher and refrigerate till chilled. Take 2 long glasses and put a scoop of vanilla ice - cream into each. Pour the chilled mix over the ice cream, very slowly. To serve , put a long - handled spoon and a straw into the glass.

Chinese Jasmine Tea
2 teaspoon Green Dream Tea
10 buds of dried Jasmine flower
Small portion of dried ginger
Follow the same procedure of basic tea brewing with all the above ingredients. Serve this hot in porcelain tumblers along with meals.

Iced Lemon Tea
4 cups brewed Green Dream Tea
Juice of 2 lemons
Sugar to taste
Refrigerate the green tea chilled. Mix the tea, lemon juice and sugar in a pitcher. Serve in tall glasses with lots of ice cubes.

Cuban Fire
3 cups brewed hot Josh Tea
Juice of 1 lemon
1 teaspoon sugar
1 cup Cuban dark rum
A small piece of cinnamon stick
Pinch of nutmeg powder
Mix all the ingredients in a double boiler and set on fire. Put off the fire as soon as it starts boiling. Strain and serve hot. This drink is recommended for chilly winters only.
All Ingredients mentioned are meant to serve 4.
Copyright © 2004 Kalyanitea.com : Site Powered by Hyper Web Technologies